Tammara Carrara is an Aphasia Specialist in Rutland, Vermont with over 25 years of professional experience in all acquired Aphasia subtypes as well as Primary Progressive Aphasia. New patients are welcome. Tammara is a SLP licensed in four states, Vermont, Maine, Massachusetts and Florida.
Expertise in diagnosing and treating:
Anomic Aphasia
Broca's Aphasia
Conduction Aphasia
Cortical Aphasia
Fluent Aphasia
Global Aphasia
Mixed Aphasia
Non-fluent Aphasia
Primary Progressive Aphasia (all variants of)
Thalamic Aphasia
Transcortical Motor Aphasia
Transcortical Sensory Aphasia
25 Curtis Avenue
Rutland, VT 05701
Call for further information (802) 772-0172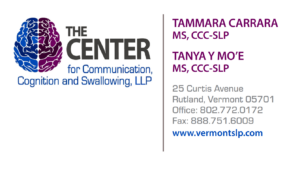 Contact
A listing in our database should not be viewed as an endorsement for any particular service, program, technology, or group. Read the full disclaimer.