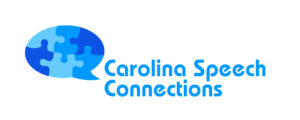 Carolina Speech Connections is a private speech, language, and feeding therapy practice with offices located throughout North Carolina. Our company and therapists are passionate about providing high quality, individualized therapy services to assist families in meeting their personal goals.
As our name suggestions, Carolina Speech Connections can help you and your loved ones make:
A connection to the skills you wish to regain.
A connection to materials and resources to help you on your journey toward growth and improvement.
An easier connection to your loved ones through meaningful and functional communication.
Has your health, or the health of someone you love become a concern? Suffering from a stroke, dementia, heart disease, progressive disease, or a tramatic brain injury (TBI) can leave a lasting impact on speech, language communciation, and swallowing.
Speech Therapy can help maintain, improve, and accommodate for changes in these areas:
Difficulty understanding what others say
Difficulty saying or remembering words
Difficulty following directions
Speaking or writing sentences that don't make sense.
Memory challenges
Reading difficulties
Challenges in planning or problem solving
Slurred speech
Voice loss or fatigue
Difficulty swallowing
The Carolina Speech Connections team consists of highly-trained speech language pathologists, each with a wide variety of knowledge and experiences. Many of our therapists hold their Certificate of Clinical Competence from the American Speech-Language Hearing Association (ASHA). Our therapists are passionate about creating engaging and positive environments to support clients as they develop skills and progress toward their goals. One-on-one speech and feeding therapy is provided in our offices, via teletherapy, or in-home for qualifying patients. Our therapists love what they do and take great pride in contributing to their clients' progress. Your successes are our successes and we are right there cheering you on the entire way!
Visit our website to learn more! https://carolinaspeechconnections.com
A listing in our database should not be viewed as an endorsement for any particular service, program, technology, or group. Read the full disclaimer.