Come Join Us!
FMU's NSSLHA chapter will be hosting a support group for individuals with aphasia. We currently hope to begin via Zoom by January 2021.
Please email us at fmunsslhavolunteer@gmail.com for more information! We hope to see you soon!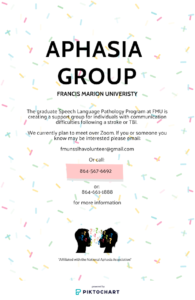 Contact
A listing in our database should not be viewed as an endorsement for any particular service, program, technology, or group. Read the full disclaimer.