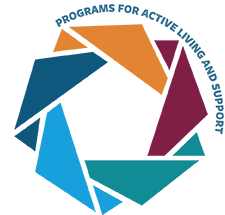 PALS" describes the various post-treatment programs that Alvarado Hospital's San Diego Rehabilitation Institute (SDRI) has for the benefit of our senior community and/or individuals with a physical disability. The Stroke Peer Visitor Program, the Senior Fitness Class, SoCal Rehab Golf Program, Comebackers Neuro Club, Alvarado Balance Club (ABC), the Art for All program, Book Club program, and the Aphasia Group all fall under the umbrella of Programs for Active Living & Support—PALS.
These programs are designed to help seniors and individuals with disabilities to achieve optimal physical, cognitive, social and emotional health.
Additional information on all of the programs offered to the community are listed on our website. Our groups are currently being offered in-person, virtual, and a hybrid model depending on the group.
If you or a loved one are interested in participating in any PALS programs, simply contact us at 619-229-7216 Monday-Friday, between 9 AM-3:30 PM. We are located at 6645 Alvarado Road, San Diego, CA 92120
Contact
A listing in our database should not be viewed as an endorsement for any particular service, program, technology, or group. Read the full disclaimer.