Dr. Harrington is a speech language pathologist and neuroscientist. Her research interests focus on neurorehabilitation of aphasia and alexia after stroke using MRI and non-invasive brain stimulation.
Reading in Aphasia
We are currently recruiting for a study that looks at how the brain works during reading and we are looking for adults in the Atlanta, GA area to participate! We are looking for all levels of reading ability – general reading difficulties (dyslexia or poor reading abilities,) reading difficulties after stroke/aphasia, and typical readers. The study involves two visits, each approximately 3 hours. In the first visit, we will test your reading skills and in the second visit we will scan your brain in an MRI.  Receive up to $65, based on number of sessions completed (minimum $15)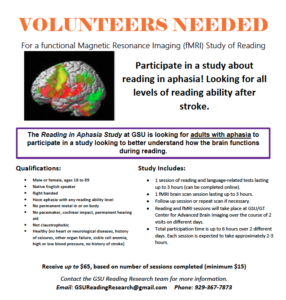 If you are interested in learning more, e-mail me at rharrington2@gsu.edu.
Call us at 404-413-6219.
Visit our lab webpage at http://www.psychology.gsu.edu/reading-studies.
Contact
A listing in our database should not be viewed as an endorsement for any particular service, program, technology, or group. Read the full disclaimer.