Welcome to the Aphasia Threads Project, which weaves together three points-of-view: people with aphasia, caregivers, and the professionals who help each family navigate aphasia. Each week, we bring together three unrelated stories, one from each member of this triad, to learn from their experience. This week, we'll hear from Sandy, a person with aphasia, who had a stroke. Then, we'll hear from Dawn, who is a caregiver for her husband after a stroke. Finally, we'll hear from Bri, an SLP in Austin, Texas.

Person with Aphasia
Immediately after my stroke, while I was in the hospital, I could not speak. I went home, not being able speak more than a few broken words. Speaking on the phone was impossible; making my appointments, not being able to convey my feelings to my husband and friends. I credit my medical team and the therapist, who knew I was one of the most determined patients she had seen for giving me "homework" to challenge me every day. Almost 4 years later, I still work on the aphasia.
Aphasia Changes Your Life
Recognize that not every day will be a "good day" with my speech. I have learned that friends and family are the most important ammunition I have, and they can help when I can't get my words right or find the right word. Even my 5-year-old great-granddaughter can see when I need her to help.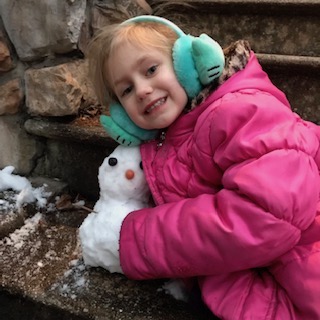 But There Are Things That Help
There is no one tool or app that that does everything but for me, but I credit my therapist for teaching so many tools to work with and never give up.
And Things You Learn Along the Way
I repeat this phrase every day: You either get bitter or you get better. You either take what has been dealt to you and allow it to make you a better person, or you can let it tear you down. The choice does not belong to fate; it belongs to you.
What Caregivers and Professionals Can Learn From Me
It's a work in progress so encourage your patients to work at home, not just during a therapy session. Friends or loved ones can help a lot.
Everyone, at one time or another, wants to give up. But just because you might not be the person you used to be, does not mean you won't be a better person.

Caregiver
My 49-year-old husband had a massive ischemic stroke in 2017.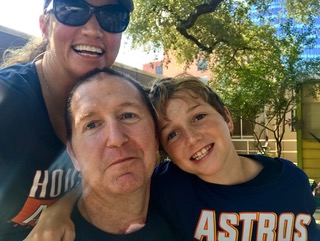 Aphasia Changes Your Life
Our family dynamic has completely changed. The once very independent, active father/husband is now dependent. He is unable to communicate his thoughts via speech or writing. He has lost his language center.
But There Are Things That Help
We are desperately trying to find one that works. He will occasionally use Tippy Talk or Dynavox, but unless everyone (friends, therapist, family…) uses it with him, he does not think he has a use for it. The frustration is his, but 80% of the time, he thinks it is the other person at fault for not understanding him. The apps are not simple to navigate or set up with someone with severe aphasia. As a caregiver, there are 1000 things you could do better or different in a day if there was just more time or assistance.
And Things You Learn Along the Way
Start early in a routine of practicing speech/repetition every day, several times. The farther away we get from the event, the harder it is to get my husband to speak or practice with us. It is like he finds it elementary, but this may be a cover-up. There's no way of knowing for sure. Push all areas of cognition. You never know capabilities until you do this.
What People with Aphasia and Professionals Can Learn From Me
When there are many issues, there are many disciplines all giving you work to do at home. I added it up one day. On top of all of normal life, work, family, cleaning the house, cooking meals, the additional "homework" came to 5.25 hours. After a stroke or any neuro recovery, endurance is difficult. Say you could find 5.25 hours a day free. The patient is not going to be able to handle that much on top of all the other daily cognitive and physical activities.
Just keep moving forward. Neuro recovery is slow, but if you continue to expose and put effort into it, there will be forward progress. Do not look back; yesterday is gone and bringing someone "back" is not the answer. Acceptance and creating a new normal––a new happy––is what we have right now.

Professional
Bri works at Austin Speech Labs in Austin, Texas.
I first heard about aphasia in an undergrad linguistics class. We briefly touched on language deficits following stroke, and I decided to do my final project on bilingual aphasia. From that moment on, I was hooked. It has always been my favorite population in my career as an SLP.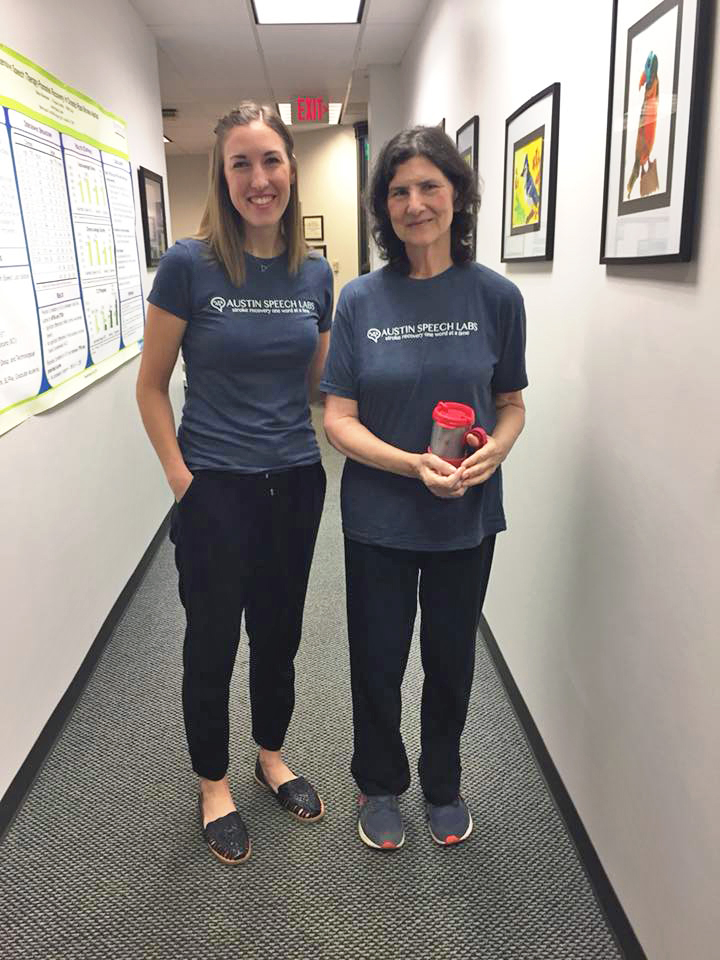 What I've Noticed Along the Way
I think that stroke recovery takes time, and I get frustrated by the limitations that our healthcare system places on time and money for this process. There is also a lack of knowledge and awareness about language deficits following stroke because they are less obvious than the physical deficits. But people with aphasia are so resilient! And kind, and funny, and smart. I love working with them toward goals such as texting a friend, reading a recipe, listening to and understanding podcasts, and telling someone, "I love you." The small strides, as well as the big leaps, make this job SO worth it.
There Are Things That Help
There are tons of great language-based games and activities! I love pulling in functional tasks, such as responding to texts, emails, and voicemails, and navigating computers and smartphones. To add a little fun, board games such as Boggle, Taboo, Bananagrams and Instructures work on different language goals. But pretty much anything that generates a back-and-forth conversation is good! Whether that is flipping through magazines, watching movie previews, looking through photo albums, reading menus, or planning a trip!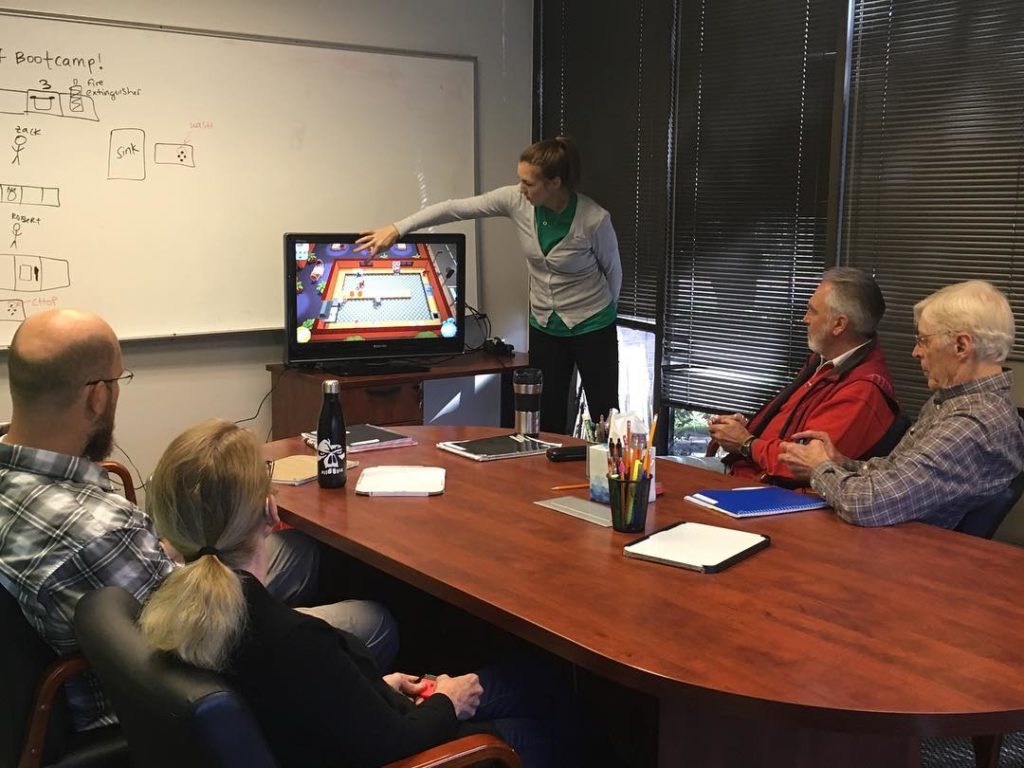 And I Encourage New Professionals to Learn About Aphasia
For just one day, try marking a tally each time you talk, understand something that is said to you, read (street signs, texts, instructions, etc), or write something down (texting and typing count, too!) Look at that number. Now imagine either not being able, or having significant difficulty, doing all of those things.
What People with Aphasia and Caregivers Can Learn From Me
I love when I get lots of background information about a person with aphasia – especially if they have trouble telling me themselves. Do they like gardening, card games, golf, watching reality TV, or collecting albums? Give me names of specific sports teams, TV shows, and movie genres so I can help tailor therapy to their interests and make their speech therapy more fun and functional.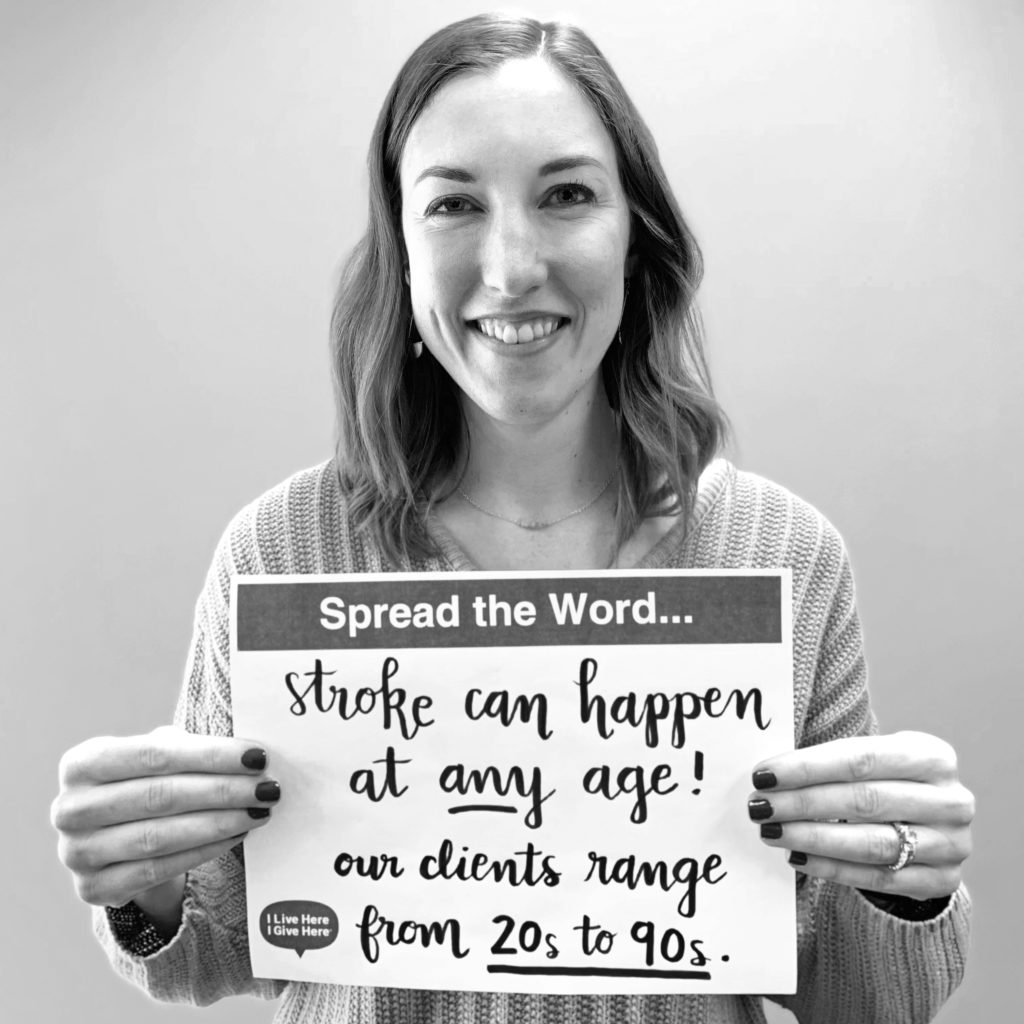 I work for an amazing non-profit organization called Austin Speech Labs (located in Austin, Texas). We provide intensive and affordable speech, language, cognitive, and music therapy for stroke survivors, and believe that progress can be made long after medical insurance runs out. Therapy is offered for up to 3 hours per day, and we offer discounted/free services to those in financial need. We believe that every person deserves the therapy they need to get their words back.

Want to Be Featured in a Future Article?
Aphasia Threads is an on-going project created by the National Aphasia Association. If you'd like to be featured, don't leave a comment. Instead, please read the opening post for more information or fill out our form and we'll contact you.