Welcome to the Aphasia Threads Project, which weaves together three points-of-view: people with aphasia, caregivers, and the professionals who help each family navigate aphasia. Each week, we bring together three unrelated stories, one from each member of this triad, to learn from their experience. This week, we'll hear from Starleen, a person with aphasia after several strokes. Then, we'll hear from Stephanie, who is a caregiver for her son. Finally, we'll hear from Mary, a speech-language pathologist who also helped her mother through aphasia.

Person with Aphasia
I had eight strokes. I live alone, so I have no help. How can I get better alone?
Aphasia Changes Your Life
I have a hard landlord who wants to evict me and won't fix my apartment. He now told me that I owe him a half month's rent. It's so frustrating. No one gets how hard this is or understands. All my relationships are bad.
But There Are Things That Help
Yahoo.
And Things You Learn Along the Way
Take time to understand.
What Caregivers and Professionals Can Learn From Me
I have no caregiver. I see my doctor.

Caregiver
I am blessed to have the opportunity to be the caregiver for my son.
Aphasia Changes Your Life
Aphasia has taught me patience and determination.
But There Are Things That Help
Constant therapy is an app he uses on his iPad. He also continues working with a speech therapist.
And Things You Learn Along the Way
Pray and reach out to others in the community or join an online support group of those who are dealing with aphasia as well. Remember every story is different. Take care of yourself, even if it is focusing on your breathing for one minute. Most importantly, you are not alone!
What People with Aphasia and Professionals Can Learn From Me
Teach us how to help our loved one and no assumptions that we know what we are doing.
Probably heard this already: "It is a marathon not a sprint." It truly is a Tough Mudder! Be thankful for baby steps. You may hear that your loved one has plateaued. Please know that therapists plateau as well, and there may come a time to find one with more experience. One day at a time!

Professional
I have been a speech-language pathologist for over 30 years. In 2012, my mother was hospitalized for colon cancer, and despite successful surgery, she suffered a stroke. I had just left the hospital when I got a call telling me to return. By the time I arrived, she was outside of CT, unable to utter a word. Friends told her how "lucky" she was to have a daughter who was a speech-language pathologist. I was terrified of taking on the role of the therapist for my mother and possibly failing to meet everyone's expectations. The year of her recovery and those that followed until her death allowed us to heal unfinished business in our relationship, making the time, in some ways, the best of times. Her recovery showed me the importance of patience, perseverance, practice, family support, and resilience.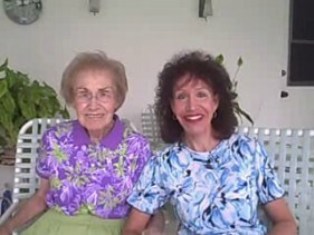 What I've Noticed Along the Way
First is just education. Most families are unprepared for the impact of aphasia on many aspects of life. The need to provide some immediate, functional communication for the individual with aphasia is a priority, and of course, every patient and family want to know: "Will they improve?" The biggest frustration, I suppose is not being able to tell patients/families with any certainty what degree of improvement to expect and re-enforcing that recovery may go on for months or years. Seeing patients succeed at something important to them is a joy.
There Are Things That Help
Well, there is hardly one tool for all patients, in particular, because every patient's language impairment is so different. I often use Lingraphica products and apps for home use and to support in-person treatment, and also Constant Therapy. Sometimes I might choose something that is very patient-specific. For example, at the moment, I have a patient who wrote his own songs, and we have been using Karaoke videos on Youtube as a way of starting every therapy visit.
And I Encourage New Professionals to Learn About Aphasia
Find a good mentor. New clinicians may not be prepared for the amount of counseling that needs to be provided to patients and their families and may find there are times where they need the support and guidance of a more experienced speech-language pathologist. Study. Aphasia is complex, and we are still uncovering new information about how the brain works and neuroplasticity.
What People with Aphasia and Caregivers Can Learn From Me
Speech-language pathologists are among the most caring of health care professionals. Our training and our field are broad, and not every therapist has the same skills or experience. Your therapist must be knowledgeable about aphasia. Our goal is to help you, the person with aphasia, return to the things you enjoy doing, and connect you to the people and resources that can help you on your recovery journey.
Laughter is good medicine. When my mom was first recovering from aphasia, she made some funny verbal missteps that left us in tears laughing. Set your goals high, and you might be surprised at what's possible.

Want to Be Featured in a Future Article?
Aphasia Threads is an on-going project created by the National Aphasia Association. If you'd like to be featured, don't leave a comment. Instead, please read the opening post for more information or fill out our form and we'll contact you.