Going off the beaten path will get you a lot of attention, which is what people raising aphasia awareness want. Whether climbing the Himalayan mountains or crossing over the plain in a hot air balloon, we have rounded up stories of people doing unusual things to make the world stop and notice — and learn about aphasia as they pause.
Reaching Great Heights
We were thrilled to read a recent newsletter by Fabi Hirsch Kruse, Ph.D., CCC-SLP, a friend of the NAA and CEO of Friends of Aphasia. Barbara Leonard, a fellow speech-language pathologist, and her husband, Greg, are climbing in the Himalayas during August and September to raise awareness of aphasia.
They are calling the project High Asia for Aphasia (HAFA). This will be a high-altitude climb, reaching heights above 18,000 feet. You can hear an interview about the project on NPR.
Hirsch Kruse says,
With aphasia often overlooked in society, there was tremendous appreciation for Greg and Barbara's decision to make these upcoming extreme climbs about more than just themselves and to dedicate their efforts to increasing aphasia awareness.

Greg and Barbara returned to the Aphasia Center for group members and leaders to sign banners that they will be taking to the summits and to display some of their climbing equipment.
We love seeing people take their passion and use it to educate the people around them about aphasia.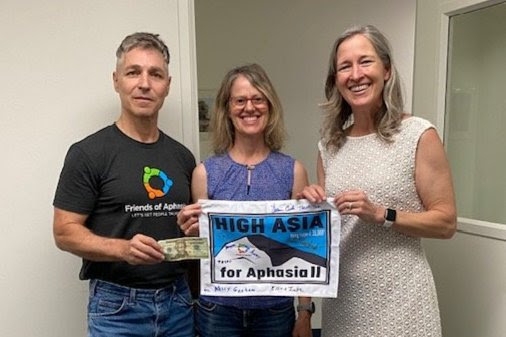 Sailing Above the Earth
In addition to mountain climbing, people raise awareness for aphasia through hot air balloons. Bill Whelan, a hot air balloon enthusiast, wrote us about how he is taking his message to the sky.
In 2022, we launched our Aphasia Word Warrior hot air balloon. Aphasia Word Warrior made 30 + appearances explaining aphasia. 2023, we are launching our newest creation — LOFNI, our rendering of a chipmunk LOFNI is wearing a Aphasia Word Warrior Ball cap. Both balloons are ready to travel.
He is raising awareness with his eye-catching balloon to educate the general public after his wife, Sandra's, stroke in 2015.
The Heritage Inn International Balloon Festival calls it "a balloon with a mission" and describes their balloon: "Aphasia Word Warrior is a special balloon built from the heart. Their mission is to raise awareness that APHASIA… is A LOSS OF WORDS… NOT INTELLECT."
Bill Whelan and Sandra Rolfe bring a sense of humor to their advocacy efforts. The story of their first hot air balloon is on Facebook. "Aphasia the Alien is from a place far, far away, from a different planet. Maybe even a different solar system with a different hemisphere. For someone with aphasia, it would be the left hemisphere where speech is created."
Click over to see pictures of their balloon.