It's a scary time in our country, and we want to provide our community with aphasia-specific, helpful information. Emergency preparedness — or dealing with the unexpected — is the topic of our April 1st online chat. All are welcome to register and join us.
While we normally post a roundup of tips after the chat, this time, we're starting the post before the chat and updating it afterward. We want to make sure people who need this information get it as they need it, not afterward. So let's dive in.
Be Prepared
Hopefully, you already have food and toiletries on-hand for the next few weeks. If not, delivery is your friend, but don't wait until last minute. Schedule delivery long before you need it because businesses are struggling to keep up with demand. Make sure you also have a several-week supply of any medications you need.
The Aphasia Center of California has put together an aphasia-friendly emergency preparedness list with pictures. While you probably won't need everything on that list because some items are for weather-specific emergencies, it's a great list to use to make sure you have everything you need. Thank you, Trish, for passing this along.
Today is the day to make a plan for any standing appointments such as speech therapy or medical appointments. We've provided some tools below that you can use to continue to hold some appointments from afar. If you don't already have a plan for how you'll keep up care until the COVID-19 crisis is passed, make one today with each of your providers.
Communicate Aphasia
Make sure you have an aphasia card with you every time you leave the house.
Print our card by right-clicking on each image (front and back), printing them out, filling them out with your name, and then laminating them together.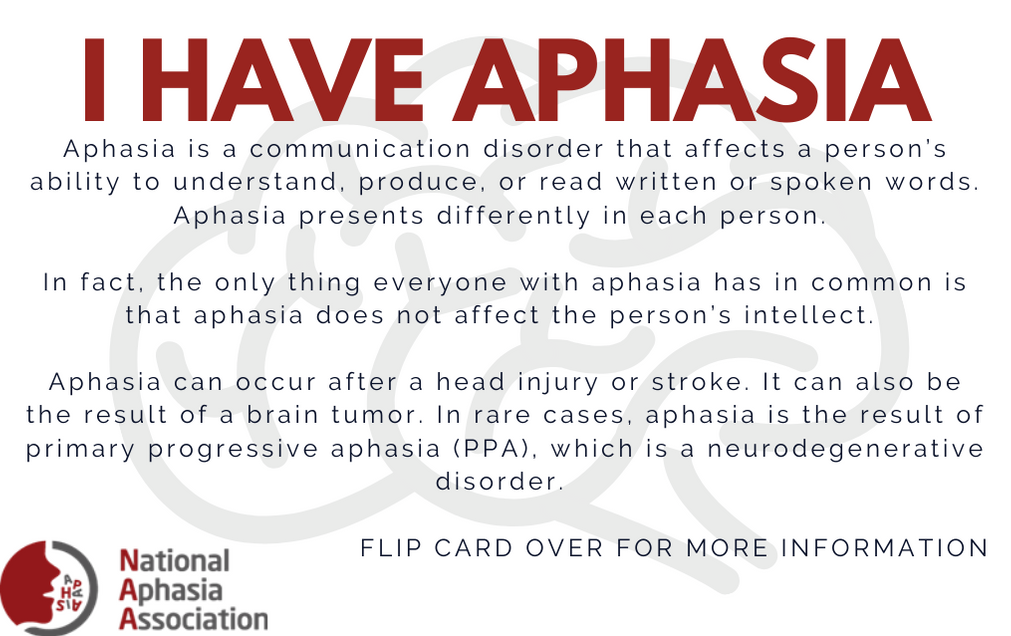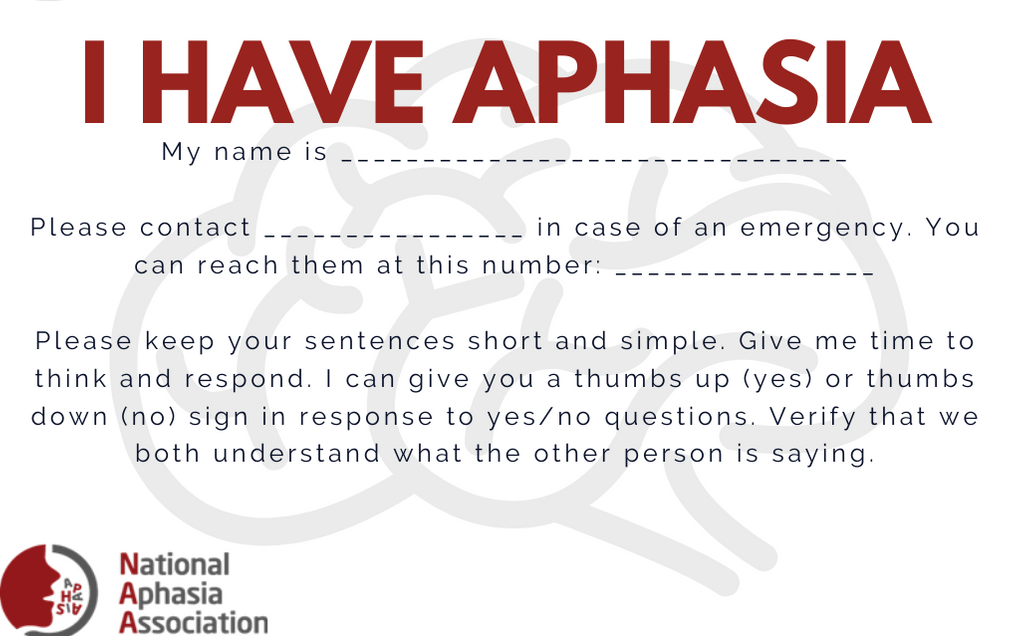 We also recommend creating an aphasia explanation sheet to hand to anyone who comes to help — from first responders to the neighbour who's stopping by to see if you're okay. A quick paragraph explaining aphasia as well as some helpful information or answers that you can point to on the sheet will help with communication. Make sure you include contact information for a loved one in case you need someone to make a call. Also include communication tips for the other person, such as speaking slower or asking yes/no questions.
Moreover, many areas have a special needs emergency registry. Google that term along with your local or state government to see how you can add yourself or your loved one to the list. For example, Rhode Island's registry explains that people with communication issues can add themselves to the list. The program passes along information to first responders in the event of an emergency.
Go Virtual, If Possible
Not everyone has access to online devices such as mobile phones, tablets, or computers. But if you do, consider going virtual for the next few weeks. Many doctors and speech therapists are temporarily expanding their telepractice offerings.
If you're feeling ill, you may be able to get a virtual appointment, speaking with a doctor or nurse from the comfort of your own home. Ask your speech therapist if they will switch to telepractice sessions for the next few weeks. Support groups can use tools to meet virtually and continue practicing speech and giving support to one another.
Zoom is currently the easiest tool for group conversations. You can download a free account and hold 40-minute calls with dozens of people. Skype is another video conferencing tool for one-on-one conversations. FaceTime is Apple-specific but will work between any two people who have an Apple device. Google Hangouts comes free with any Google account.
Keep Social
Continuing to talk with others is vitally important when you have aphasia. It's not just communication; it's therapy to improve speech. Plus, isolation comes with its own set of problems. Losing speech is stressful.
While we need to practice social distancing, and visits even from friends and family can spread disease, you do not need to stop communicating. You just need to get creative.
Set up times with friends and family to host virtual coffee dates. Get your cup of coffee or meal and sit across from the computer or phone. You can chat while you enjoy your coffee, just as you do in a face-to-face cafe.
Host virtual playdates with grandchildren, asking them to bring their toys in front of the computer so you can talk to them as they play. Or get together with friends online to play a game.
The point is to set up these chats just as you would schedule any get-together rather than leave them to chance. Having a plan in place means you can look forward to conversations throughout the day.
Keep Calm
We know that the world feels overwhelming right now. Take deep breaths, stay informed, and make common-sense decisions that limit contact and stops the spread of illness. We'll speak with you at our April 1st chat and update this post when we have additional recommendations or information.