We're continuing with our affiliate highlight series, this time turning our eye to the University of Arizona Clinic for Adult Communication Disorders, Aphasia Programs in Tucson, Arizona.
What Makes University of Arizona Clinic Unique?
We have a number of aphasia groups so we can provide the best match for each person who wants to join a group. We specialize in primary progressive aphasia, and we provide services along the continuum of the progression of the disease. An integral part of our program are the Family and Friends groups that meet at the same time as our groups. Given the challenges that arise over the course of the PPA, we have found that the Family and Friends component for those groups is particularly critical. We are also affiliated with the University of Arizona's Aphasia Research Project and thus have numerous opportunities for our clients to be involved in treatment or testing through the project. Currently, our clients with aphasia (involved in research) are offered brain imaging at no cost through one of the investigations.
Great Success Stories
There are many stories I could share, but one that comes to mind is when I worked with a young client who sustained aphasia as part of a traumatic brain injury. As a part of a custody case, he needed to go to court to convince the judge that he could be an active parent to his young son and provide a safe environment for him. His ex-girlfriend was trying to make the case that he was an unfit parent due to his communication disability. The client and I worked together for several months helping him to prepare to address the questions he would be asked by his ex-girlfriend's attorney and the judge.
The judge also questioned me about his abilities, particularly regarding safety. Having observed my client with his son in our clinic environment, I knew his devotion to his son and had seen his ability to parent effectively despite his aphasia. I received a call from the client's attorney shortly after we (the client and I) had testified saying that the judge decided in my client's favor! The attorney indicated that my testimony and advocacy for the client was key to the ruling. It was something I won't soon forget.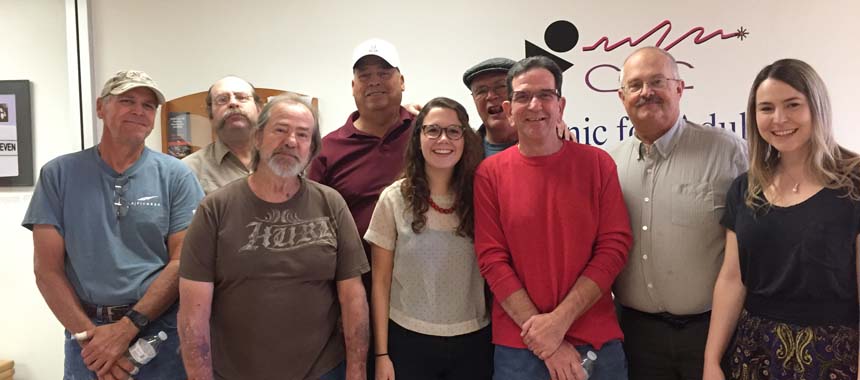 They Love What They Do
Without a doubt, the most rewarding part of my work is the connections I am able to make with our clients with aphasia and their families. I feel so lucky to be a part of their lives and offer them assistance with their communication. They frequently share how valuable they find what we can offer them, so it is a mutual admiration/appreciation society! I am also so fortunate to work with graduate clinicians; I love to share my knowledge and experience with them, and I love the creativity and energy they bring to the services they provide our patients and families who live with aphasia.
Services and Support Groups
We are a full-service clinic: we offer evaluations, individual treatment, and also have a number of aphasia groups (we are flexible in that we can add or modify groups depending on the number of patients/clients we have at a particular time and depending on the type of aphasia they present with). As noted above, we also work alongside the Aphasia Research Project. Given that we are in a research setting, we are highly invested in providing cutting-edge and evidence-based treatment, often based on research that occurred in our own department.
Special Services for Caregivers
Absolutely. We have Family and Friends groups that are a part of our various aphasia groups. The most active group is the one affiliated with our simultaneously scheduled PPA groups. As a part of the groups, we provide education, psychosocial support, and recommendation/resources. Caregiver education is also provided in the context of individual treatment sessions where the caregivers are integrally involved in sessions.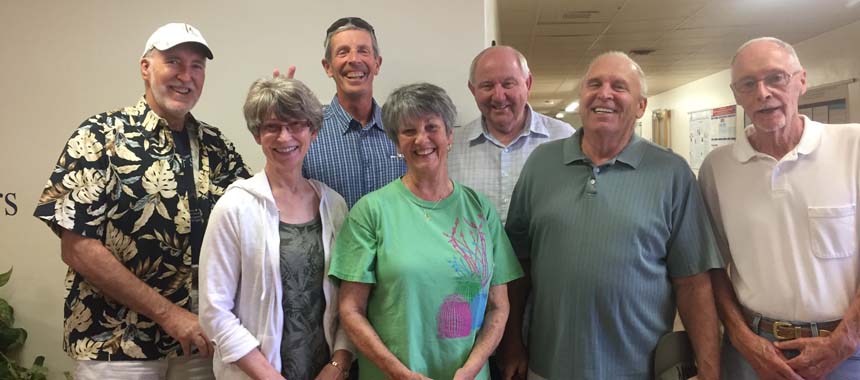 More Information
We are big believers in the Life Participation Approach to Aphasia. We aim to help our clients thrive despite the aphasia (i.e., not be defined by their communication limitations).
Do you live in the Tucson, Arizona area? Contact the University of Arizona Clinic for speech services and support groups.
We're spending 2018 highlighting our affiliates in order to make it easier for caregivers to find services for their loved ones.