We're continuing with our affiliate highlight series, this time turning our eye to Speech Language Institute Aphasia Support Group at Salus University in Elkins Park, PA.
Learn What Makes Speech Language Institute Aphasia Support Group at Salus University Unique
The Speech Language Institute (SLI) at Salus University in Elkins Park, Pennsylvania, established a once-monthly aphasia support group as an affiliate of the National Aphasia Association beginning in July 2017. The group provides an environment for psychosocial support and aphasia education, promotes everyday problem-solving, teaches strategies for negotiating social situations, increases self-advocacy, and fosters recognition of one's communication competence. Care partners of people with aphasia are also active participants in the SLI aphasia support group, discovering and sharing their own experiences while learning to accept new identities in their relationships.
The focus of SLI's support group is on the word support through group interaction. It does not specifically target speech-language goals but rather offers members a supportive environment for communicating, learning, and participating in a socially comfortable setting.
For some members, the group serves as an adjunct to their weekly individual aphasia treatment sessions, and for other members, it's an important part of extended "life participation treatment" when they have been discharged from individualized services.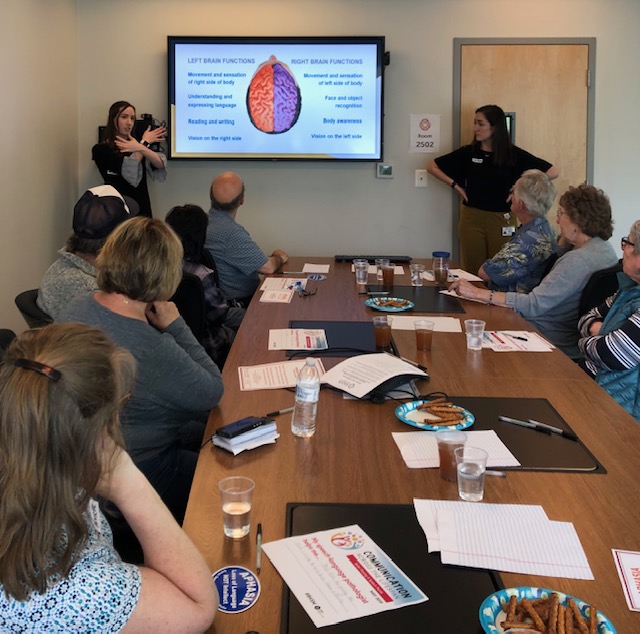 Here Are Some of the Services They Offer
In addition to the aphasia support group, we have several groups at the Speech-Language Institute, including LOUD Crowd for clients with Parkinson's Disease, Raise Your Voice for support group addressing transgender voice and communication skills, Brain Injury Group offering group support and intervention for clients with TBI, and Book Club open to adults of any age and reading level.
They Have Great Success Stories
Great moments seem to happen most when we are engaged in hands-on projects. Clients are surprised at their own creativity as a form of expression and have bonded with one another during these moments. Hand-on projects have included mask making, Positive Affirmation "I Am" collages, a Tree of Support, and a Cornucopia of Thanks. It's amazing what we can learn about one another without saying a word!
The Pandemic Changed a Few Things…
Our aphasia support group now meets in-person in the Speech Language Institute at Salus University. We held monthly virtual group meetings each semester from April 2020 until July 2021. We returned to monthly in-person meetings on September 23, 2021, but have the option for members to attend virtually if they desire.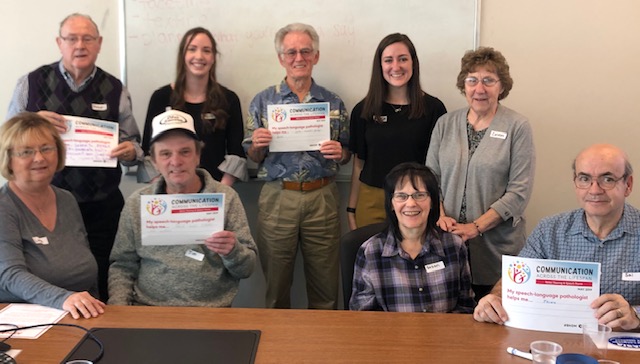 They Specifically Offer
Support groups or counseling specifically for caregivers.
A Few Last Things You Should Know
Care partners of people with aphasia are part of our aphasia support group.
More Information
Do you live in the Elkins Park, PA area? Contact the Speech Language Institute Aphasia Support Group at Salus University for speech services and support groups.
The NAA is highlighting our affiliates to connect people with aphasia and caregivers to their services and to celebrate the amazing work they're doing.