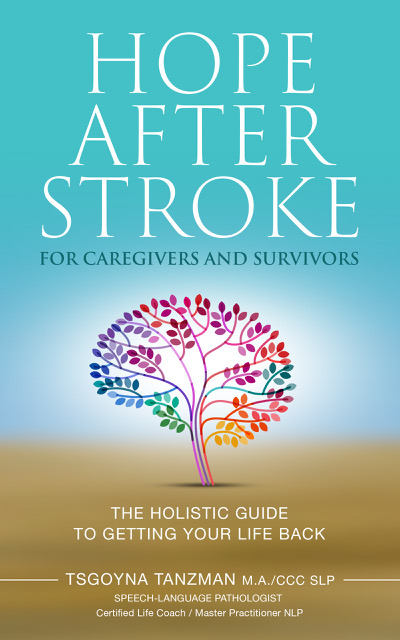 About the Book (from Amazon.com)
Stroke affects 800,000 people yearly, but that's just a statistic. Someone you love had a stroke.
Right now, you may be desperate for answers as you struggle to understand the confusing maze of medical terms, therapists, and treatments. Do you wish someone would guide and prepare you for what to expect and how to manage the challenges and the uncertainty of what this disability may mean to your relationship and life?
Hope After Stroke is like having a personal concierge therapist at your side, clarifying the medical jargon and empowering you each step of the way. You'll discover simple practical tools and strategies you can use in the hospital, upon homecoming, and re-entering your community and workplace. Hope After Stroke will help you find the hope, certainty and resolve needed for recovery.
About the author (from Amazon.com)
For more than 25 years, Tsgoyna Tanzman has helped 1000's of stroke survivors and their families answer those questions, recover communication skills and find meaning in their lives after stroke. With compassion, humor, and down-to-earth practicality she focuses on positive outcomes, and makes rehab and recovery a truly transformative experience. Her unique blend of skills as a Speech-Language Pathologist, Master Practitioner of Neurolinguistic Programming, and a Life Coach means she utilizes the best practices of the most successful people on the planet. She's assisted survivors at every stage of their recovery and in every environment including hospitals, residential settings, clinics, home care and finally back into the community and workplace.