Introducing Legacy Pages
Legacy pages memorialize members of our aphasia community. We want to show the world the similarities and unique aspects of each aphasia experience, and we want to make sure that people who experience aphasia or aid those who have aphasia are not forgotten.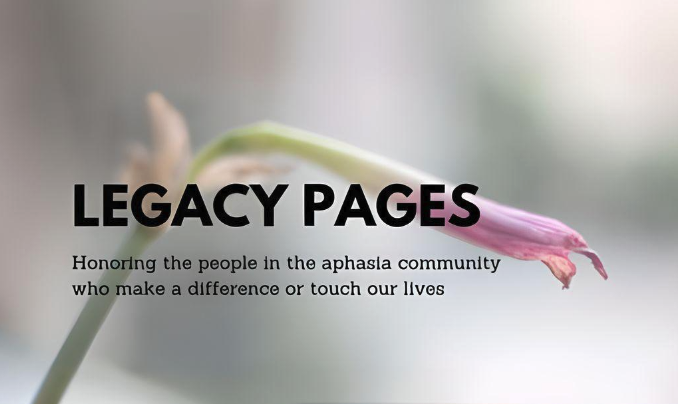 Creating a Legacy Page
Anyone who has experienced aphasia or who works with people with aphasia in either a caregiver or professional capacity are invited to create a legacy page.  The initiative is in place for people we lose in the future, but we also encourage people to create legacy pages for people who died years ago. Find a form for submitting the information and story of the individual you would like to memorialize below.
Browse Legacy Posts
In addition to contributing a legacy page, we encourage you to read and leave a comment on other legacy pages.  These stories represent the contributions that people have made to our community.  You can make a donation in their name, or continue their legacy by educating the general public about aphasia
The Legacy of Virginia (Ginny) DiLibero
Friendly, kind, vivacious, a ray of sunshine when she entered the room are all terms people use to describe Ginny. Constantly hard-working to better her life, the lives of her loved ones and the lives of all the people she met.
Read Ginny's Story
The Legacy of Randy Joe Hawkins
Randy was an incredibly successful and generous businessman and philanthropist, who was diagnosed with PPA in May of 2013.
Read Randy's Story
The Legacy of Harold T Lomb
Harold Lomb was a very intelligent, hard-working man. Unfortunately, he was diagnosed with aphasia not too many years after retiring.
Read Harold's Story
The Legacy of Liz Jelinek
A lifelong learner, Elizabeth (Liz) Jelinek passionately pursued education, knowledge, and an understanding of the human experience. She was an outspoken and gregarious woman who loved being center stage.
Read Liz's Story
The Legacy of Lewis Yale Faber
Before aphasia brought on by a stroke, Lewis was a gregarious, strong-minded and generous husband and father. He was a business owner who gave back to the community by raising funds for Project Sunshine, a children's charity.
Read Lewis' Story
The Legacy of Derrick Wong
Derrick Wong became a stroke survivor in 2008. Developing aphasia changed his life dramatically. As a former reporter and sales trainer, he was accustomed to public speaking and communicating with ease.
Read Derrick's Story
The Legacy of Larry Lurin
Larry was born on June 13, 1934, in Hackensack, NJ. Larry knew at the age of four years that he wanted to become an artist. He spent his whole life creating and designing graphic art for a living while enjoying oil painting.
Read Larry's Story
The Legacy of John Cooper
John Cooper spent his life working as a litigation attorney from 1966 to 2003. His first job was practicing at McCarter English law firm with his close friends, Peter and Tom.
Read John's Story
The Legacy of Steven Battern
In 1998, my father, Steve Battern, suffered a brain aneurysm followed by a stroke which left him with paralysis on his right side and aphasia. I found that most people were unaware of what aphasia meant.
Read Steven's Story
The Legacy of Pat Cornett
Pat suffered a stroke in 2015. Afterward, she was partially paralyzed and suffered from aphasia. Prior to this her passions were reading and sewing.
Read Pat's Story
The Legacy of Shirley Morganstein
The aphasia world lost a true champion when Shirley Morganstein passed away after a bout with cancer. Shirley was a long-standing member of the Professional Advisory Board of the NAA, and we are grateful for the wisdom and advocacy she brought to our organization.
Read Shirley's Story
The Legacy of Mike Adler
The aphasia world lost one of its strongest advocates on September 15, 2015, with the passing of Mike Adler. In addition, the National Aphasia Association lost a great friend and supporter.
Read Mike's Story