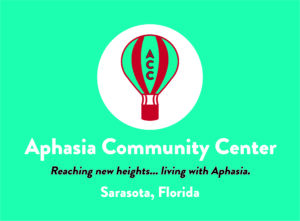 We welcome you to join the Aphasia community in Sarasota, FL. Our mission is to empower persons with aphasia and co-survivors to communicate and live successfully with aphasia.  We offer support groups, programs, group activities, aphasia awareness events and helpful resources.  The Aphasia Community Center was founded in October 2018 as a 501(c)3 not-for-profit organization to meet the needs of persons with aphasia and their co-survivors.
Contact us at:
Address: PO Box 693, Sarasota, FL 34230
Phone: 941-500-4748
Website: aphasiasarasota.org
Email: aphasiacommunitycenter@gmail.com
Contact
A listing in our database should not be viewed as an endorsement for any particular service, program, technology, or group. Read the full disclaimer.