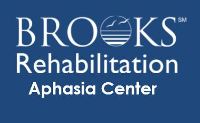 Brooks Rehabilitation Aphasia Center is dedicated to providing comprehensive support to persons with aphasia and their families. Our program offers both a life participation based community program that is open year round and an intensive,  (ICAP) individualized six week aphasia program.  Our community aphasia program  provides a matrix of coordinated group activities focusing on the life participation approach to aphasia.  Some of the groups include: Conversation corner, hot topics. book and movie clubs, functional math groups, computer and assistive technology and communication partner training. Other groups focus on art and poetry, writing and pen pal opportunities and music therapy.
Groups are designed to improve communication skills, increase self confidence, foster friendships and support networks.   5 free zoom groups are offered a week, including language groups, music therapy and mental health and well being groups.   We offer monthly support groups for communication partners and communication training.
This program is open Monday, Tuesday,  Wednesday and Friday from 9-2 pm.    An intensive comprehensive aphasia program (ICAP)  is also offered for 5 days a week/6 weeks that meets that focuses on individuals personal goals. We are dedicated to providing support to persons with aphasia and their families.
For more information call the aphasia center or Jodi Morgan, SLP @ (904) 345-6780, email: aphasia@brooksrehab.org or visit us at brooksrehab.org/aphasia.
Physical addresses: 
BRAC, 2700 University Blvd. West Suite B, Jacksonville, Florida 32217  (904) 345-6780
BRAC Communication  Group @ 190 Southpark Blvd. #100, St. Augustine, Florida.  Phone:  (904) 824-1478
Our flier:   3.0 BRAC Flyer_Version 2            More information:  Brooks_Rehabilitation_Aphasia_Bookmark_110519
Contact
A listing in our database should not be viewed as an endorsement for any particular service, program, technology, or group. Read the full disclaimer.