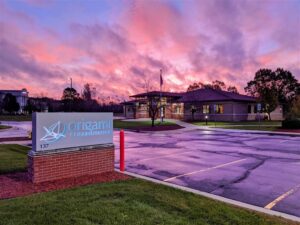 At Origami Rehabilitation, our mission is to create opportunities and transform lives.
We are a 501(c)(3) nonprofit organization that provides comprehensive rehabilitation for children, adolescents, and adults with neurological, developmental, mental health, and orthopedic conditions through residential and outpatient programs.
Since opening in 1997, Origami began as a residential program specialized in serving adults with traumatic brain injury and gradually expanded to become a unique multi-dimensional continuum of care serving children, adolescents, and adults. Although we continue to strategically diversify our population served and maximize access to care for individuals with diagnoses such as Parkinson's, spinal cord injury, Cerebral Palsy, and more, we will always be experts in neuro care. That's why our team of experts are Certified Brain Injury Specialists (CBIS).
All of our experienced, licensed, and certified Speech-Language pathologists, provide evidence-based therapy (Augmentative and Alternative Communication and technology available as well), and include the Life Participation Approach to Aphasia. Functional, individualized goals are established for each client experiencing aphasia. Therapy includes individual and group sessions along with caregiver support.

"Origami is the art of paper folding. We all know this. This place takes people with brain injuries, and their families,

who have been shattered, whose lives have been flattened, and makes them three-dimensional again."

-Wife of Origami Resident

 
Contact
A listing in our database should not be viewed as an endorsement for any particular service, program, technology, or group. Read the full disclaimer.