We're continuing with our affiliate highlight series, this time turning our eye to The Shirley Ryan AbilityLab Center for Aphasia Research and Treatment in Chicago, Illinois.
What Makes The Shirley Ryan AbilityLab Center for Aphasia Research and Treatment Unique?
We are situated within the Shirley Ryan AbilityLab (formerly the Rehabilitation Institute of Chicago). Our hospital has been rated the #1 rehabilitation hospital for the past 28 years by U.S. News & World Report! The innovative AbilityLab environment allows us to translate the Center's cutting-edge research directly into clinical practice.
For instance, speech therapy, occupational therapy, and physical therapy are provided by the Shirley Ryan AbilityLab at inpatient, outpatient, and day rehab locations. We provide a unique variety of services including our intensive comprehensive aphasia treatment program, aphasia community groups and classes, the annual Aphasia Day celebration for people with aphasia and their friends and families, aphasia treatment research studies, and advocacy through continued education of our fellow health professionals in other disciplines.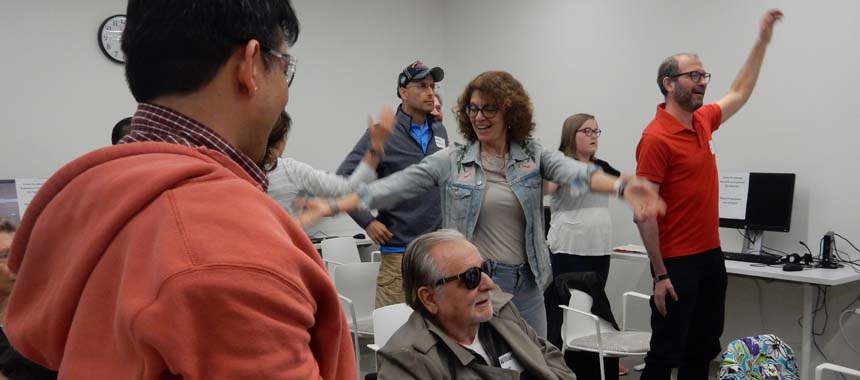 Great Success Stories
Fred B. received an award from the Archdiocese of Chicago for his volunteer work and commitment to his local parish. Donna W. documents the beauty and lives around her through photography, which she shares with our community. Dan S. is raising funds for other stroke survivors through climbing the 110-story Willis Tower as part of the hospital's annual fundraiser and organizing his own golf tournament. Tom B. and Richard F. have published books about their experiences.
The spouse of an intensive aphasia program participant wrote to us that her husband has returned to work full-time in a managerial position: "I am not sure if you remember but [my husband] could barely speak, could not read or write. The intensive aphasia program gave him his second chance. From the completion of the program to now he is a completely different person. I thoroughly believe your program and the amazing speech therapists he had while in Chicago gave him the tools and confidence to keep working hard at his rehabilitation."
They Love What They Do
We love empowering people to communicate in a variety of modalities, providing structure in a communication group and observing group members learning from and sharing with one another, and seeing people's appreciation after participating in groups and research. We love seeing them enjoy each other and following participants' progress long-term from therapy to research to community groups.
Services and Support Groups
The Intensive Comprehensive Aphasia Program provides 6 hours per day of treatment for 4 weeks. All therapy is provided by licensed, certified speech-language pathologists who are among the most experienced in the field of aphasia treatment.
Our Thursday Aphasia Community Groups includes a book club and conversation group. We also offer rotating semester-length themed groups, such as an aphasia chorus, improv/humor, and adapted yoga group. These groups are facilitated by licensed certified Speech-Language Pathologists, with support from community and student volunteers.
Our annual community event, Aphasia Day, is a full-day celebration that includes educational and social/networking opportunities for people with aphasia and their family and friends.
Opportunities to participate in treatment-based aphasia research studies. We are currently recruiting for Time Distribution of Computer-Based Script Training in Aphasia, Enhancing Written Communication in Persons With Aphasia, and Effect of Offline vs. Online tDCS on Language Recovery in Post-Stroke Aphasia.
More Information
Our mission at the Center for Aphasia Research and Treatment is to promote the Life Participation Approach to Aphasia. The founder and director of our Aphasia Center is Leora R. Cherney, PhD, CCC-SLP, BC-ANCDS.
Do you live in the Chicago, Illinois area? Contact the The Shirley Ryan AbilityLab Center for Aphasia Research and Treatment for speech services and support groups.
We're spending 2018 highlighting our affiliates in order to make it easier for caregivers to find services for their loved ones.