The world feels overwhelming right now, so we're shrinking things down to quick, actionable steps you can take from home to treat your aphasia and spread awareness. We're inviting you to #TakeAphasiaAction with bite-sized life hacks and activities you can do from home to make life better.
1. Take our Aphasia at Home personality test
2. Tell us what you're doing at home to practice speech or make life with aphasia a little easier
3. Spread awareness by posting our message for Aphasia Awareness Month
Ready to #TakeAphaiaAction?
---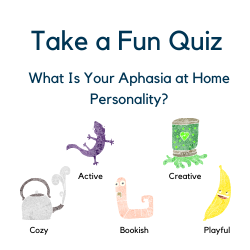 1. Take Our Quiz
Move over, BuzzFeed. The National Aphasia Association has made our own quiz for Aphasia Awareness Month.
Discover YOUR Aphasia at Home personality with our quiz. In just six brief (and fun!) questions, you'll learn the best activities YOU can be doing from home to treat your aphasia or spread awareness.
Are you cozy? Active? Bookish? Creative? Playful? Take the quiz and see.
---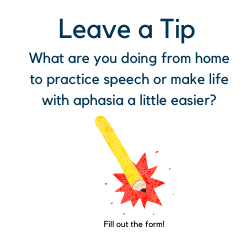 2. Leave a Tip
Did you do One Aphasia Action a few months ago? It's never too late to dive into the daily activities and practice speech from home.
We're adding to One Aphasia Action with YOUR help. Let us know what activities you have done at home to practice your speech or make life with aphasia a little easier.
We're looking for simple activities—either that you made up yourself or were assigned by a speech therapist. (And speech therapists, please join along and leave your best tips, too!) Fill out the form to leave a tip.
We're posting a roundup of these tips every Monday so you can leave a tip, but you'll also learn a tip. This is "community" at its best: Crowdsourcing what works for us and coming together from our individual homes.
---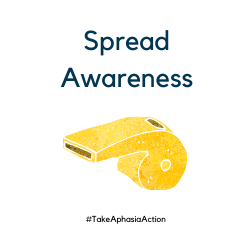 3. Spread Awareness
Please help us spread our message on social media by using the hashtag #TakeAphasiaAction. Cut-and-paste this message on your favourite social media platform:
#TakeAphasiaAction and learn how to practice speech at home and spread awareness for Aphasia Awareness Month: https://bit.ly/takeaphasiaaction