Books, Us & More: The NAA Online Book Club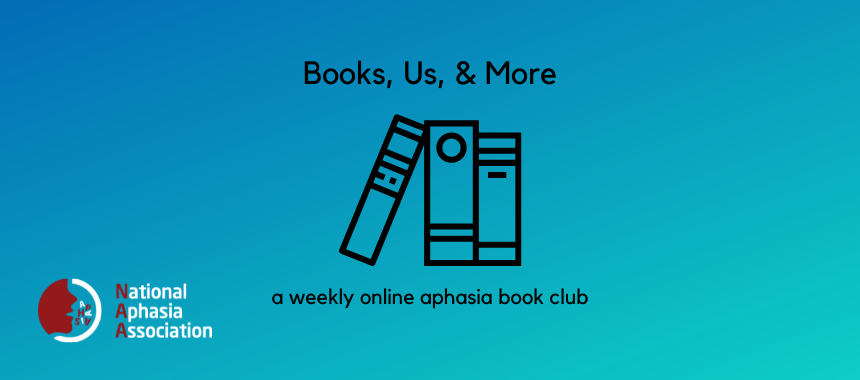 Welcome to our Book Club!
We are on summer break and will be back in the fall!

Books, Us & More developed from a shared love for all things books. We treasure a good book. Come chat if you do too!
Join the National Aphasia Association's virtual book club, where we share our passion for reading, have easygoing discussions, and connect with friends in an aphasia-friendly space. Books are selected by our hosts based on member suggestions and conversations and activities are casual, fun, and relaxed. We will read 20 to 30 pages a week. If you miss a week of reading, come anyway because we will still have a lot to chat about!
Books, Us & More welcomes persons with aphasia, care partners, and professionals.
Upcoming Books, Us & More sessions
If you are interested in learning about our next book, please email jen@aphasia.org to sign up.
If you sign up, please stay with us through the entire book. If you missed a week of reading, come to the Zoom session anyway, and join the chat. If you must miss a few weeks, no problem, just let us know if you can!
#NAABooksUsAndMore
#AphasiaBookClub
#BooksUsAndMore
#AphasiaReads
For any questions or suggestions about Books, Us & More, please email us at katherine@aphasia.org